Belfast – Movie Reviews by Ry!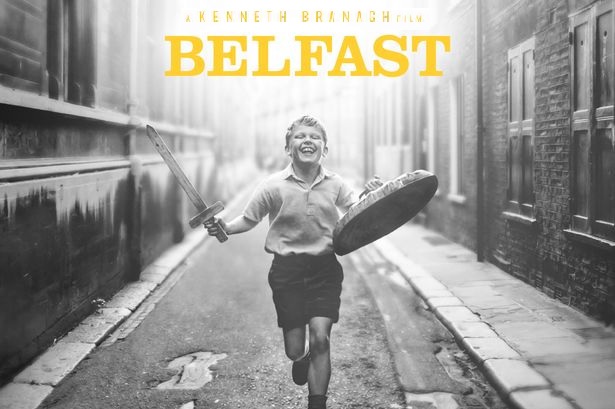 Belfast – Irish Child, Life is … Meaningful
The simplicities of life can be the most poignant threads. From a morning greeting to a random conversation, it is the gravity of one's thought that can bring wonders. These are aspects that draw us in and creates a journey that mean more in the end. In this review, I look at the latest film from Kenneth Branagh. A man of many talents, he brings a story that is grand within its simple thread of life's tale. From what can be said, Belfast is simply … a grand story of the innocence.
This film can be described as moments beyond typical storytelling. With no real plot or grandiose motive for the surreal, we have a tale focused on life. Writer/director Kenneth Branagh weaves moments, conversations and purpose through the eyes of Buddy (Jude Hill). He is a young boy living with his family in Belfast in the late 1960s. An astute but innocent lad, he is living through a time when Northern Ireland is going through a lot of economic and social strife. These worldly aspects provide a backdrop for the film's foundation, providing a jumping point into the aspect of the Buddy's life. As we are introduced to his world through a tense mob situation, what comes after is the effect of 'life is' for Buddy. Through each scene, you get growth through wholesome conversations with his Pop (Ciarian Hinds) and Granny (Judi Dench), confusion of the parental struggles between Ma (Caitriona Balfe) and Pa (Jamie Dornan) or first crushes with trying to win the heart of the girl in class. Through each moment, it's an amalgamation of childhood brevity being coursed through common conversations. The onus of the directive is not to force ideals, themes or predicate sensational motives, it is to watch the unfolding moments of human nature through the eyes of the child.
As Buddy struggles with his own identity, its a rippling effect that slowly reveals the fragility of character experiences. The human condition showcases the raw touches that are whimsical, volatile and heartfelt. You become engrained within the importance of each interaction, seeing the importance of how the simple antics of a child parallels within all the things that abound. Living these moments, the growth gleams truth on how outcomes manifest its own ideals of family and love. The final act is filled with messaging of the heart, even if convenience bounds certain scenes. As decisions are made, you watch as Buddy welcomes change (with his family) never forgetting where began. Belfast is a poignant tale that moves along a path of inexplicit mastery. With strong direction, amazing characters and a journey about life, you will not be disappointed. From all that I have seen this year, sometimes it is the simple stories of life that can be grand. This film is simply, a grand theater experience.
Full Score – 5 out of 5 (Legendary)