Crazy Rich Asians – 3.5/5 – Movie Reviews by Ry!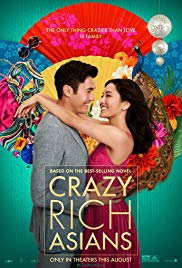 Crazy Rich Asians – 3.5/5 – Romantic Comedies, a genre filled with predictable storylines and happy endings.  Also known as a Rom-Com, what makes them worth watching is that idea of capturing the essence of the characters.  When the story can gravitate towards the endearing journey of individuals in love, it becomes remarkably entertaining.  Crazy Rich Asians takes everything and turns it into something more.  Even when the chances seem obvious, the endearing tale and wonderful characters keep you engage.  Crazy Rich Asians might not seem to be anything different, but it has enough to make it a fun experience.
Premise: As Rachel goes with Nick to meet his parents in Singapore, heads and families will clash in a romantic comedy that will have you feeling the truth in love.
At the heart of the film are the two leads:
Constance Wu as Rachel Chu
Henry Golding as Nick Young
These two provide the heart and emotional core of the film.  They add true grit, honesty and folly to their performances, creating that raw budding relationship dynamic.  Through all the 'highs' and 'lows' they go through together (and separately), they manage to grow through each obstacle.  Their relationship feels real because of the great chemistry that develops between Wu and Golding.  The strength comes through their dialogue, mannerisms and close intimate encounters.  This furthers the conceptualized approach of the relationship trope, leading to an organic development for the audience.  For the rest of the characters, please refer to the film's IMDb page.  The ensemble feed off the leads, providing a dynamic that creates a wonderfully beautiful world.  They push the Rom-Com archetypes with endearment, giving each character a purpose to the overall story.  You feel true personalities in each person, believing they are more than fictionalized characters.  What adds to the believability is the conversational approach.  This creates emotional layers, showing how they matter to Nick and Rachel's relationship.
The direction takes a basic Rom-Com script and infuses it with indifferent detail.  By taking Asian Culture and blending it with focused character dynamic, it allows for the outline to be a starting point but not a driving force.  As you start the journey with Rachel and Henry, there are a lot of foreshadowing moments that lead to familiar scenarios that are common to this genre.  From the affair trope to the family conflict element, it is something that has been used many times before.  For this story, the outline is as followed:
First act – Guy meets Girl > Falls in Love > Setup of Introduction to Family
Second act – Hijinks of Family Dynamics > Expositional Relationship Elements > Consequential Fallout
Third act – Last Second Revelation/Character Reflection > Love Triumphs All Climax > Forever After Ending
The redundancies are clear, but it ironically provides a point of growth for the story.  With the focus on characterization, it pushes forward a humanized element.  This allows for the character(s) to drive a formulaic plot, where the fictionalized tale becomes vibrant and alluring to a genuine perspective.  That layer of humanism breaks the one-note aspect with emotional worth, family undercurrents and honest romanticism.  Each act provides an expositional baseline that is then twisted through unorthodox mannerisms, flawed reactions and unhinging tension.  This leads to realistic conflict, adding importance from each character's perspective.  The ensuing drama is keen on flawed perception, providing a delicate charm to the dialogue.  As you watch Rachel and Henry go through each stage of their relationship, the ideas of passion, family and love come to head.  This leads into a final act that gives a glimpse into what makes 'love' real.  This reflective tone leads to scenarios that bleed truth through convictions that are beyond clichés.  The climax is a wholesome treat, even if it is telegraphed.  Once in the epilogue, you are welcomed to a 'Happy Ever After' ending that might seem procedural, but it is completely true of what might happen in real life.
The visuals are spectacular.  Taking place in Singapore, the cinematography of each part of the social climate gives personality to city.  From the extravagant houses and destinations, to the quaint look of untouched wilderness, you feel the vastness of everything.  This keen approach allows for colors through various scales, seeing how 'big' and 'small' lives can be in the film.  The score is very much what you would expect from a Rom-Com.
Crazy Rich Asians might follow the path of any Rom-Com, but there is enough distinction and characterization to make it stand above the rest.  If you're a fan of this genre or want to see a film with heart, this is one for you.  I say check it out at the theaters, it is worth it.