Mank – Movie Reviews by Ry!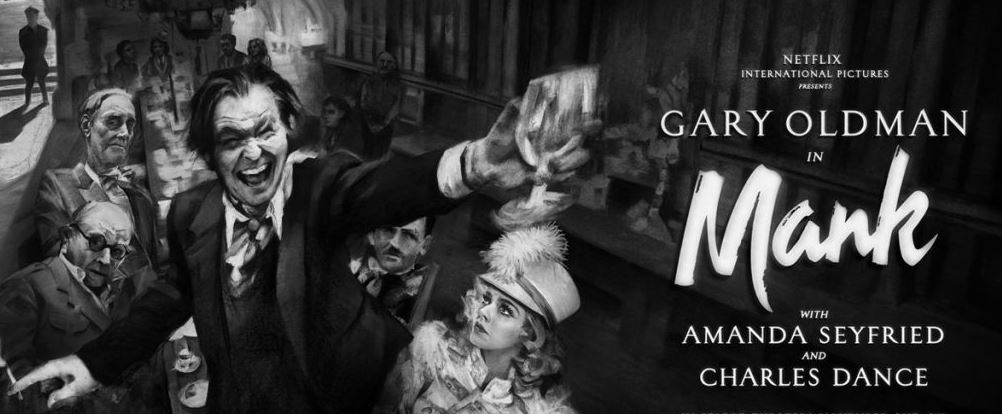 Mank – A Citizen's Words: Odes to Old Hollywood
The power of cinema strikes variety in its own define.  From character and story, the striking words are sincere if not magical.  In moments captured, you (as an audience member) look forward to escaping into worlds, new and old.  The creative entices genres to create feelings of greatness, even if it simple.  In this review, I look at a story that capture the arts through character.  This film puts the manic of the medium into perspective of personal conviction.  Even when the story slows, Mank showcases the character of old Hollywood … a master play of writing. 
As the world of cinema is filled with languish and strife, screenwriter Herman Mankiewez (Gary Oldman) works to finish his final work.  With everything mounting against him, he strives to be remembered for his last screenplay.  David Fincher (director) delivers a complex endearing tale through a retrospective look at Hollywood.  This foundation is built through tradition, blending themes of arts and politics through the outline of a character piece.  The first act introduces the audience to Herman Mankiewicz.  A character dealing with some personal demons, he moves to a secluded ranch to finish writing the screenplay for Orson Welles' film, Citizen Kane.  As he begins to outline the story, each plot point parallels his own relationship with Hollywood.  Through methodical flashbacks, the film progresses forward (and backwards), leveling out the craft of writing against the strife of a Hollywood journey.  As we move into the second act, the writing process drives further detail through 'highlights' of his Hollywood affairs.  Mankiewicz's interactions of the current (set in 1940), parallels the inspiration of the screenplay to his past (1930s).  Fincher levels out 1930s Hollywood through wits of personal perspective.  Dealing with a plethora of personalities, political drama and impersonal affairs, Mankiewicz becomes the 'eyes and ears' for the audience, bringing an enigmatic face to the folly of a pseudo period piece.  The personal touch helps bridge the era backdrop of black and white.  This brings an ironic homely visage while standing unique within its art.
As he steadies the writing approach, it provides a crossroad of personal convictions with past decisions.  Looking back drives a reflection of the ultimate purpose of those involved in the film industry.  Standing on an island of his own creation, he pushes through human flaws with self-reflection and sacrifice.  The heartfelt is blended with bombastic and whimsical conversations, providing color in the dramatic.  As we move into the third act, everything comes together through the redemption trope.  This leads into the full circle climax, culminating in an epilogue of real character moments.  Mank is a story that melds arts, history and drama into a character piece.  This is film that pushes forward the power of cinema.  If you are a fan of the director, period pieces or like endearing writing, this is one for you.  It is a Netflix Original that is an award worthy experience. 
Full Score – 4.5 out of 5 (Award Worthy)