Mr. Holmes – 3.5/5 – Movie Reviews by Ry!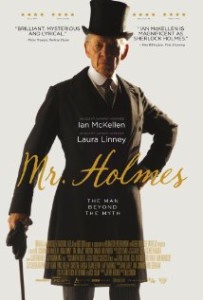 Mr. Holmes – 3.5/5 – This will be a quick prologue.  Mr. Holmes is a British Indie film about the later years of an aged Sherlock Holmes. With a simple story about age and retrospective, Mr. Holmes will show that even in elder days, a man can still find more purpose and be a formidable detective.
Premise: An aged and retired Sherlock Holmes looks back on his career.  Through the lens of loose memories, Mr. Holmes grapples with an unsolved case while also trying to find something meaningful to live for again.
In the lead role of an elder Sherlock Holmes is Sir Ian McKellen.  In this role, you get to see an elder statesmen that is (like most) falling victim to what age does to us all.  Even when he grows weak, ill and sometimes forgetful, Mr. Holmes shows signs of his detective intellect.  What McKellen shows is more than just a famed Mr. Holmes, but he also shows you what it means to be older, wiser and coming to terms with what life presents.  Through his interactions with the people in his life as he tries to remember his last case, you get to see a man that is troubled because of a lot of regrets.  He shows the audience the purity of his mind, but also how he learns the passion of life through his housemaid and her son:
Laura Linney as Mrs. Munro (housemaid)
Milo Parker as Roger (Son)
These two add a wealth of humanity and emotional overtures to the logical draw of Mr. Holmes and his alluring and sometimes blunt personality.  As the movie pulls you in with the famed detective, these two grip you to this simple tale.  Through these characters, you are given an ironic abstraction of the simple nature of life.  You're grounded to this story through the humanism allure of their lives, watching them learn what life is on an individual and together level.  The rest of the supporting cast is as important as the main leads, but they are solemn in the screen presences.  They don't take away from the story or the overall themes.
With the direction, it is a layered approach.  On the surface you get to see a simple but stylized 'life and times' approach of Sherlock Holmes in his later years.  You get to see what the elder statesman has been doing with his life; living in retirement.  There's a mix of 'coming to terms' within these later days.  You watch as the aged Sherlock Holmes is trying to remember his final case as a detective. From this introduction, you get to see the other layers peer through the direction.  As you see a 'detective' story on the surface, you also get to see the layers of a human tale.  The thematic underlines reveal deeper aspect of age, reflection and the meaning of life.  You get to see an 'emotional' side of Mr. Holmes, one that is fraught with flaws and strong regrets.  That gives a serene but abstract visual of a man behind the myths and tales, as it adds meaning to the simple parts of 'what it is' to be human.  You get to see a characterization of Sherlock Holmes and his career; how this defined him before and currently as an older man.  The definition of his fragility adds another level of heartfelt moments with the additional subplot and interactions with Mrs. Hunro and her son, Rodger.  The fragility in their own lives clashes with Mr. Holmes current state.  This emotional 'motherly' draw that goes against Holmes' 'vigorous' analytical mind shows strong conflict.  This helps progress the story and characters.  As the movie moves between the final case, the elder years and the dynamic relationship of Mrs. Hunro/Rodger/Mr. Holmes, you get to see the meaningful stature of each layer that is revealed.  You see that this movie is simple on approach, but methodical in its pathway.  It leans on characterization of icons, but also shows you the flaws that come with living the truth of certain lies.  What is it to be logical and have heart combined with the fact of what is it to be Mr. Holmes.  His reflection is an epiphany like moment; showing change that we all can understand.  As we come to the climax, we get to see him finally coming to terms with his past in the present; he learns that his logic and reason can meld perfectly with emotional and decisive actions.  When the epilogue rolls into the ending credits; you get to see what truths may mean, but also what living truthfully can mean for others around him.
The visuals are brought through a strong, aesthetic appeal. The purity of leaving everything to a 'simple' look at the countryside of England, late 60's London and Japan, you get to feel the purpose of each place of Holmes' path of reflection.  What you also get to see is and 'abstract' like aura of places that become metaphors of what 'true life' can be for the audience.  The music is mute at best, but doesn't hinder the progress of the film.
Mr. Holmes is a genuine tale about growing old, while also adding meaningful layers and prowess of what Sherlock Holmes is as a person.  If you're a fan of foreign cinema, indie films and Sir Ian McKellen, this is one for you.  This is a definite good time at the theaters.