Yes, God, Yes – Movie Reviews by Ry!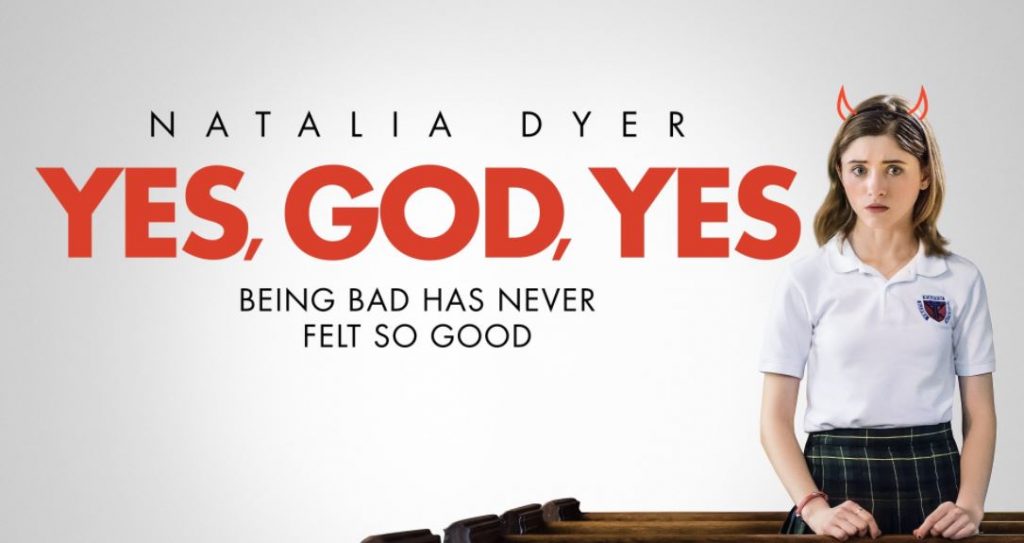 Yes, God, Yes – Life is Tempting: A Teen's Faith
Looking at growth, everyone comes across things in different ways.  In the provided window, it is a matter of recognition in knowing what is true to finding yourself.  Growing to become anew is the spirt of a coming-of-age tale.  In this latest review, I look at a film that provides the typical within something that is funny but genuine.  Even in the predictable avenues of teenage adolescents, this story spins innocence in a different manner.  For all the commonalities, Yes, God, Yes provides a riveting coming-of-age tale that showcases honesty of self and faith.    
After an innocent but racy chat room interaction, Alice (Natalie Dyer) becomes confused about herself.  In the face of family and school, she must discover the meaning of faith in self.  This story combines the typical coming-of-age outline within themes of faith and self-worth.  The angst of the period (early 2000s) provides a unique structure to encapsulating teenage life.  In Alice, we see worldly desires come into conflict with her faith.  The first half is layered with predictable scenarios from any other teenage comedy.  This stirring of angst and desire leads our main character to come across certain AOL chat rooms that bring out certain temptations.  Nothing is overly saturated, as the directive gives a likeness in the raw detail through a character approach.  This drives the worth in humanistic fervor within our main character.  After this inciting incident, the rest of the first half is driven within the typical 'high school' setting of archetypes.  Even if predictable, this allows for triviality of setting to create purpose in the folly.  With everything overwhelming her at home and school, Alice's conflict of spiritual growth pushes her to attend a faith-based retreat.  This key incident pushes forward the coming-of-age aspects into an intuitive mixture of comedy and dramatic mature growth.
As the story moves to the camp, Alice begins to discover the allure of her temptations.  Driven by a mixture of teenage behavior, innocent provocation and faith laden rules, it creates an unorthodox setting of opportunity.  The dramatic becomes infused with situational comedy, creating scenarios of physical mishaps and conversational freneticism.  Alice's interactions with fellow campers is melancholy but poignant, creating that ominous nature on societal worth within conflict of one's belief.  The dramedy is used to pristine effect, pushing the typical material into a light of indifference.  When faced with hypocritical turns of goodness, who are we to say what is not?  This is a question that becomes prudent within Alice's own personal struggles, but one that adds layers to her convictions.  As the story heads into the final act, Alice's final exposition brings levity to the climax.  Once in the epilogue, it brings full circle to the nature of what is human.  Yes, God, Yes is a coming-of-age tale that provides worth in the rawness of high school, faith and growth.  Everything is unique because of story, but also from the strength of character.  If you are a fan of these kinds of films, I say check it out.  It is available on Netflix and Amazon Prime, but worth seeing at the theaters.    
Full Score – 3.5 out of 5 (Matinee)