The Master – 3.5/5 – Movie Reviews by RY!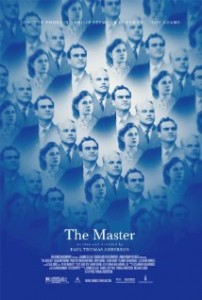 The Master – 3.5/5 … A tradition to most everything that is directed by Paul T. Anderson is the focus on character.  No matter what the film is about, or what the feeling is drawn from the plot of the story, the character always take focus to forefront and stand out the most.  The Master is no exception and where the threading of a lost plot falters, the characters stand out most, especially Joaquin Phoenix.
The movie starts after the Second World War.  Freddie Quell (Joaquin Phoenix), returning from the war after witnessing many horrors, is left wandering the country as an erratic drunk, filled with angst, anger and illicit habits.  He randomly boards a ship and comes in contact with a charismatic intellectual by the name of Lancaster Dodd (Philip Seymour Hoffman).  Lancaster has created a faith based organization in an attempt to provide the meaning for life.  This is when the story truly takes offs.  As the progression of the movie moves on from here, the most important aspect that becomes develop, that Anderson is well known for, is the relationship between Joaquin and Hoffman's character.  You have one person who is broken, free spirited and looking for something in life (Freddie Quell) and you have another man (Lancaster Dodd), who is affluent in his behavior and feels to have found in defining his meaning of life, a deep connection to Freddie.  As the movie continues, you witness how this faith base group starts to become a spark of purpose to Freddie, as well as at the same time a question to his own habits.  Joaquin does a, fantastically epic job in this role.  You see his facade of being a drunk and free spirit become a conflict in trying to hide deeper problems.  In contrast to this, you have Hoffman's character that is charismatic, open and explicit in his habits.  He becomes a monument of truth to Freddie; and vice versa Freddie becomes someone Lancaster sees he wish he could be; while drawing inspiration for his life and organization.  Joaquin is so elegant, in his portrayal, as he brought the broken to his character.  He deserves, I believe an Oscar for this role.  Philip, I believe, deserves at least a nod for his role in the supporting actor's section.  I will not be surprised if both do win
For such strong characters, and a moving story, the rest of the film just felt, just good.  All the supporting characters do swell in their jobs.  They are precise in their execution as being archetypes in defending or relenting against the meaning behind 'The Cause', the organization being developed throughout the movie.  Other than this, they are forgettable
The movie starts off very slow.  The movie, as stated before, starts to get engrossing once Joaquin and Philip cross path.  The moment they start to go through their sessions, the film starts to become true and dire, as it is this point of the movie that defines the path for each men.  When the movie ends, you realize this is a strong character piece on human values it sets ups, through these men, what is their meaning to life, and also what they cherish more in this current life.  I find that this to be great definition of great direction in a film, and shows a mastery of sorts in film-making.
After watching this movie, I do realize it is a very long movie, but it is never slow.  There are parts that feel like just chained scenes, but overall, it was enthralling.  I'd recommend for a matinee viewing, but mostly for people interested in character pieces.