Belle – Movie Reviews by Ry!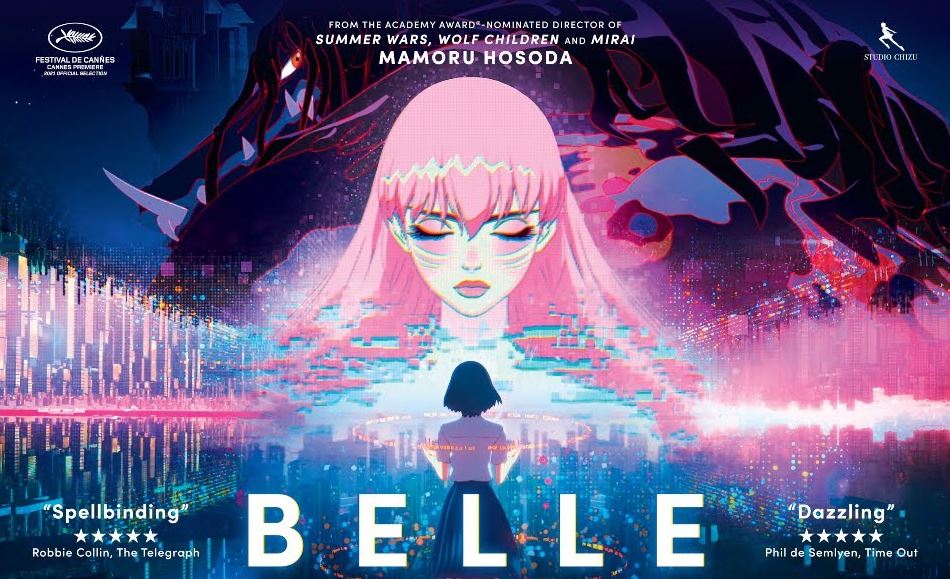 Belle – Mask of a Melody: I Sing … For You
In a world of plenty, there is always a sense of lost.  Through various means, we try to seek something that can be of worth.  Circumstances can be fraught with obstacles, but as we sense our truth … it can change fate into something remarkable.  In this review, I look at an anime tale that captures this sense.  A journey of colorful worlds, it is an obvious story that feels grand.  Belle is a tale that fills the heart with melody of pain and hope.
I am going to take a little different approach with this review, but will still provide some setup of the film.  On the surface, you have that typical threading of escapism through animated flair, but it is one that aspires to be more within a sensual grip of the heart.  As you begin your journey, it becomes a layering of societal trends, fairytale motifs and personal human struggles.  Within a multitudes of plot devices, the consistency comes through its main character, Suzu (voiced: Kaho Nakamura).  Through the first part, we learn she is a shy girl with a broken past.  To try and break her shyness, she is peer pressured to join an online virtual community known as U.  Taking the name of Belle, she comes alive in this colorful world through singing.  Along the way, she gets into a rocky relationship with another character known as The Beast (Voiced: Paul Castro Jr.).  Things start to turn in their relationship, as she begins to see something of raw reverie of the person behind the mask.  Through these initial introductions, the animated tale pushes forward on multiple fronts.  Within this dynamism, the journey that elevates beyond through a visceral application of modern world aesthetics bonding with the escapism of animation.  Through an ironic grounded sense, the audience gets to feel a genuine take within an imaginative perspective.  This creates a lush connection to the emotional roller coaster we feel in our own lives.  As we see the struggles bring Belle and The Beast closer, you see a fairytale motif grow beyond the cliches, become a unique reflection of ourselves in a heartfelt tale.     
As the journey continues, the revelation become even more relentless upon the aesthetic of those behind the mask.  As certain truths abound, it becomes a manner of connecting past with the present.  As the personal struggles come to the forefront, the modernity of the tale gains a stronger grip as the journey lifts even further into that aspiring tier beyond the medium.  Lifting beyond its trivial tropes and archetypes, you fall deeper into the world … striking purpose in the painful melody of life.  This leads into a third act of some convenient wrap up, but by the end … you will be smiling with Suzu.  Belle is an anime film that goes beyond to become something memorable.  For anyone that is a fan anime, character tales or love escapism, this is one for you.  It is available on HBOMax and PrimeVideo, a truly award-winning experience.
Full Score – 4.5 out of 5 (Award Worthy)