The Irishman – Movie Reviews by Ry!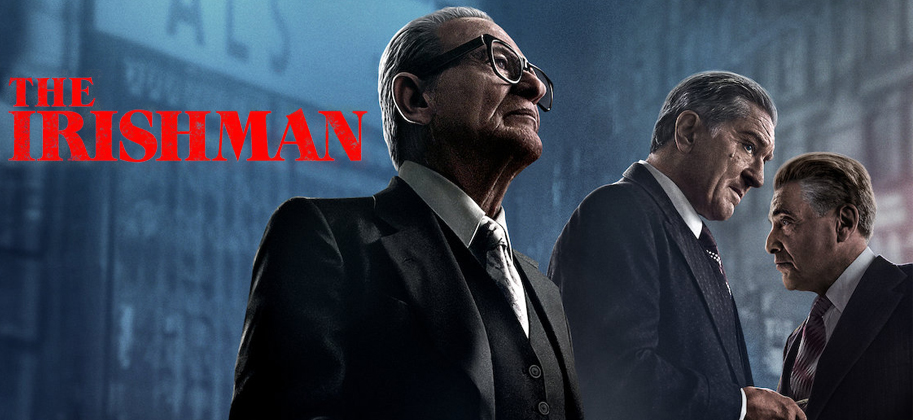 The Irishman – Retrospective of a Gangster's Life
Making great cinema falls upon the eye of the director. They look at all the pieces and try to create a story that is strong, cohesive and entertaining. Martin Scorsese brings this vision to the streaming world with The Irishman. We get a true story that is more than just your typical gangster film. With standout performances, The Irishman shows what it means to be great cinema.
The story follows Frank Sheeran (Robert De Niro), as he recalls his history in dealing with the mob boss Russell Bufalino (Joe Pesci) and union president Jimmy Hoffa (Al Pacino). A film by Martin Scorsese always puts the evolution of the story on the strength of its characters. No matter if its Goodfellas, The Departed or Wolf of Wall Street, what makes them standout are the characters. With big names playing the three main leads, you get a sense of who are Frank Sheeran, Russell Bufalino and Jimmy Hoffa. The methodical approach of seeing how each (including himself) come to life within Sheeran's recollection showcases the strong performances by De Niro, Pesci and Pacino. They exude true individualism and rawness in their roles. From the dialogue to the physical prowess, you get a sense of human nature when dealing with the union politics and the mob's involvement during the 1960s and 70s. The slow progression of the plot allows purpose and growth to feel real and evolve organically over time. Within those relationships, the humanistic elements are layered upon typical gangster archetypes. This allows for the vividness of the conflicts to shine, creating interactions that are unpredictable within its true story outline.
As the journey of Sheeran's life slowly moves forward, the waddling of the conflict is only as strong as its subparts.  There is a lot of historical events that get covered.  This causes moments of heavy exposition that create fragments that derail some of the characterization.  The overindulgence can create impersonal scenarios, but it never falls away from the importance of the relationships.  Once everything comes to head in the final act, it turns into a retrospective of choice.  This creates a climax that exudes the importance connections between Sheeran, Bufalino and Hoffa.  The Irishman is a cinematic jewel of storytelling.  Even when plot elements push manners into information overload, the overall journey is worth seeing to the end.  If you're a fan of Scorsese or like great drama films, this is one for you.  This is a Netflix Original that is an award worthy experience.  
Full Score – 4.5 out of 5 (Award Worthy)